Xiaomi Redmi 5 Plus 64GB - Original Mi Malaysia Warranty
Xiaomi Redmi 5 Plus 64GB
Let Yourself be seduced by the sophisticated, slim gold figure Xiaomi Redmi 5 plus 64GB with subtle rounded corners. Matt Aluminum blends harmoniously with the 2.5D Glass screen that covers the IPS FUll HD + matrix, also with rounded corners. This subtle composition is filled with powerful components from the inside, led by the 8-core Snapdragon 625 processor, supported by 4GB Ram. Redmi 5 Plus is also an extremely vital battery, fingerprint reader and much more. Discover its possibilities.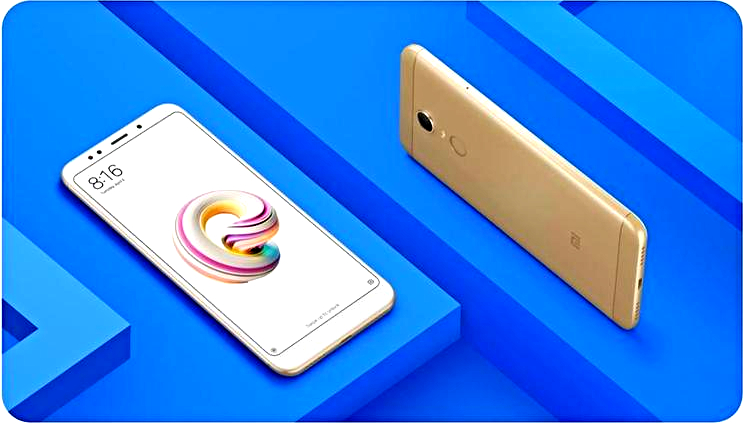 Full HD + 18:9 Screen
The 5.99" screen in Xiaomi Redmi 5 Plus Provides 1000:1 contrast. Not only that, its brightness counts 450 rivets, thanks to which it remains legible even in strong light. It can also automatically change the brightness by adapting to the conditions around you. In this way, it does not strain your eyes in the dark and exposes the displayed content on a clear day. And now the best, that is Full HD + resolution and 18"9 aspect ratio, providing cinematic image quality with fabulously intense colors.
Creative photos
Pictures taken with the Xiaomi Redmi 5 Plus surprise with brightness and sharpness. Regardless of whether you take photos at sunrise or sunset. DO you take pictures of people, animals or buildings? The 12MPIX camera with f /2.2 aperture and 1.25um pixels will faithfully capture reality, using one of the available modes. You only have to press the shutter button.
Redmi 5 Plus with 4000 mah Battery
Because the capacity of the Xiaomi Redmi 5 Plus 64GB battery is as high as 4000mah, there is no fear that it will run out of energy when it is need the most. However, the impressive cell capacity is not everything. The hardware and system optimization that makes Redmi 5 Plus rational use of energy is equally important. And he is always ready to action.
Product Description
Screen: 5.99 "
Qualcomm Snapdragon 625 (8 cores, 2.0 GHz, Cortex A53)
Memory: 64 GB
System: Android 7.1 Nougat
The camera: 5.0 Mpix - front, 12.0 megapixels
Battery: Lithium-ion 4000 mAh
FREE GIFT
1 X REDMI 5 PLUS SILICONE CASE
1 X REDMI 5 PLUS TEMPERED GLASS
1 X PHONE HOLDER & VOUCHER
1 X BLUETOOTH EARBUDS
LTE B20/800 MHz Support
Modem 4G, used on the Xiaomi Redmi 5 Plus Smartphone, supports LTE b1/3/4/5/7/20/38/40 frequencies. Particularly important is LTE B20 with 800MHz band, because thanks to it you will connect to high speed internet far outside the city, resting outdoors, in the mountains or on the beach.
Buying Xiaomi Redmi 5 Plus in our offer you can be sure that you choose equipment supporting LTE national bands.
Redmi 5 Plus and MIUI 9
Get access to the most-started processes using the new shortcut screen. This and many other practical functionalities are introduced by the MIUI 9 overlay, which is an addition to the Android 7.1 Nougat Operating System. This harmonious duo manages the Redmi 5 Plus 32GB smartphone making it easier to use the application. In addition to well-know clarity you get, among other things, immediate switching between applications using the multitasking key. One click and it's Ready.
---